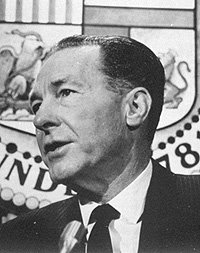 500 homes were lost over the weekend in the Sayre Fire at the Oakridge Mobile Home Park
in Sylmar making hundreds of families homeless. The owners of the park, Fullerton based Oakridge, Ltd. plans to rebuild the park as quickly as possible; though individual homeowners will be required to replace their own homes through their insurance. Both Governor Arnold Schwarzenegger and Supervisor Zev Yaroslavsky called on new regulations for the manufactured housing industry with respect to better use of fire retardent materials.
When it comes to what's going to happen with the Democratic race for Governor, it all depends on if Senator Dianne Feinstein runs or not
. However there's both good and bad news for wannabe Governor Mayor Antonio Villaraigosa. He runs behind both Feinstein as well as Attorney General Jerry Brown. However the Mayor is ahead of fellow contenders San Francisco Mayor Gavin Newsom and Lt. Governor John Garamendi. Question though - if John McCain was too old to be President at 72 isn't DiFi too old to be Governor at age 77?
General Motors and Chrysler have both decided to forgo this year's Los Angeles Auto Show
which starts this Friday at the LA Convention Center, leaving Ford as the only American automaker with a presence at the event. Both GM and Chyrsler are fighting to stay alive and hoping for a federal bail-out. In the meantime, foreign automakers - who are building cars people want to buy and many which are built in the US - are showing up in force and are doing quite well, thank you. Providing a taxpayer funded bail-out to America's failed auto companies and their incompetent executives would be a huge mistake.
As gas prices rose earlier this year, ridership on LA's buses and trains went up. Now as gas prices settle back down to a normal level,
transit use is dropping off
. That's called market economics folks! In the meantime, MTA is offering
increased service on the Red Line for holiday shoppers
.
The next court date in the case of the murder of Jamiel Shaw is this coming Wednesday, November 17 at 8:30 p.m. The Shaw Family invites you to attend if you're interested.
For more information please click here
.
Blogger Leo Mar navigates the waters of buying tickets for events at the Walt Disney Concert Hall
at the Music Center. Going to the venue is time consuming and doesn't guarantee you tickets. That being said Mar says your best bet is to go through ticket broker A Cheap Seat.
Labels: chyrsler, ford motor company, gavin newsom, general motors, Jamiel Shaw, Jerry Brown, John Garamendi, mayor antonio villaraigosa, mta, sayre fire, Senator Dianne Feinstein, walt disney concert hall