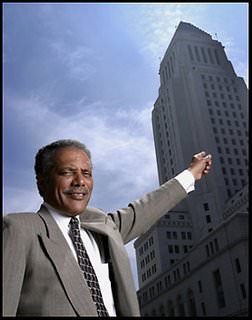 Betty Pleasant's favorite Clowncil candidate,
the ethically challenged Forsceen Hogan-Rowles
, discovered that a District map might come in handy when running for office. At a recent debate between Hogan-Rowles and Bernard Parks,
Betty's friend slammed the incumbent Councilman
over a blighted DWP site at Crenshaw and Martin Luther King. Parks pointed out that the
intersection is actually in CD10
. Maybe Forsceen needs to borrow
Gail Goldberg's GPS
. In the meantime, Parks' colleague Jan Perry calls the nearly $200K the DWP's unions have dropped on Hogan-Rowles as
"a massive, ridiculous tantrum."
Embattled City Clowncilman Jose Huizar comes up with a couple of doozys in the waning days of his Council career. One is a
multi-million boondoggle to build a streetcar downtown
, one that would be built by forcing many immigrant owned businesses to pony up "assessments." The other is to
seize control of the troubled City of Vernon and attach it to Los Angeles
. If this were to happen Los Angeles would have to assume Vernon's debt of nearly $1 billion and face the possibility that most of Vernon's major businesses would flee to avoid being subject to Los Angeles onerous tax and regulatory nightmares.
The Daily News endorses Stephen Box
over incumbent Councilman Tom LeBong for CD4
The Mayor thought he had a great idea to sell off the City's parking garages to generate some fast cash.
No one is interested.
Labels: bernard parks, betty pleasant, Forescee Hogan-Rowles, IBEW, jan perry, Jose Huizar, mayor antonio villaraigosa, parking garages, stephen box, Tom LeBong