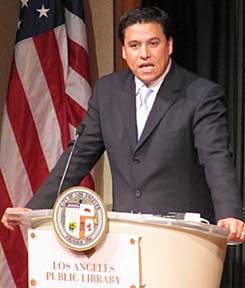 "Rudy Martinez is someone who has provided quality services and improved the standard of living of the Northeast Los Angeles area and has demonstrated a willingness to contribute his time and financial services."
- Jose Huizar
Politicians LOVE to give out proclamations en masse to anyone in their Districts these days. Used to be you had to be quite distinguished to get a calligraphied certificate of recognition from the City; now one only need make a call to your local Council office to get a proclamation. Indeed, it's not uncommon to go to a Chamber of Commerce installation, a Rotary Club meeting, a church service or a Jaycees Convention and not see a parade of young, wet behind the ears aides de camp to local electeds with stacks of laser printed certs in faux leather folders in hand.
The only problem with that is that an elected may not know when they may give such praise to a future opponent that could very well be used in a future campaign.
The folks at the Rudy Martinez campaign are doing just that as
they quote a Jose Huizar proclamation
praising the CD14 challenger. While systematically knocking down the Trujillo operation's initial volley of slime campaigning against Huizar.
In other news...
Paul Hatfield blogs that CD4 challenger
Stephen Box is making the best use of social media
in his campaign not only in the District represented by Tom LeBong but in all of the races citywide.
Speaking of Box
very good piece by the billy goated one over at LA Citywatch
about the absolute arcane laws on the book - coupled with a little nanny statism - that prevents regular folks, mainly the poor, from growing their own food on City owned land or even their own. Box correctly asserts Los Angeles has made an all out offensive on the urban farmer. And that doesn't even count
Dennis Zine's late night Starsky and Hutch like offensive on the South Central Farmers
a few years back.
The
Parent Revolution continues to gear up for the big pulling of the Parent Trigger
early next week. What school is in their target? Lock and load, stay tuned.
When the
HOWS Market in NoHo closed
they said it was because the area could not support an "upscale" retailer. That wasn't the problem I said at the time. HOWS wasn't upscale and though it had some bright spots like
it's Wine Room in NoHo
it had many other issues that failed to allow it to catch a following.
Looks like I was right.
Labels: "COUNCILMAN LAST SEEN AS JOSE HUIZAR", HOWS, michael trujillo, parent revolution, parent trigger law, paul hatfield, Rudy Martinez, stephen box