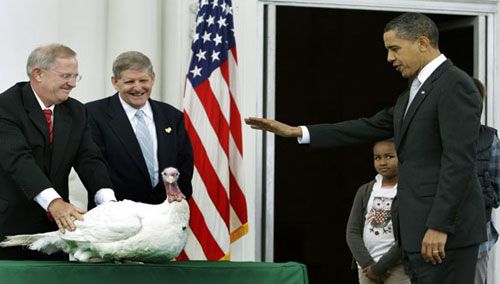 President Obama salutes the Democratic National Committee Chairman
Posting light over the holiday but here are a few nuggets for you to chew on.
Phil Jennerjahn drops out of the race for CD 4
and predicts a Tom LeBong victory.
Before Mayor Sam came to LA there was not
this level of political coverage
as seen in a Weekly story on Rudy Martinez's race for CD14. We've even made Mike Trujillo famous. You're welcome.
Here are some
opportunities for you to help your fellow man
and make Thanksgiving a little bit nicer for those down on their luck. It's also a great opportunity to
see your favorite local elected get their picture taken
.
Not realizing there are hungry people in their own city or a massive AIDS scourge in Africa, time on their hands
NIMBYs in Encino are lamenting the free market has transformed an ailing Barnes and Noble into a CVS Drug Store
. In the future people will not read but they will need stimulants. Just watch
Idiocracy
.
It's not exactly the death of high culture but
Disney is giving up making animated fairy tales
after its latest Rapunzel based feature Tangled is released this holiday season. Again, the march to
Idiocracy
continues.
Labels: encino, idiocracy, la weekly, Mike Trujillo, nimby, phil jennerjahn, Rudy Martinez, thanksgiving, Tom LeBong, walt disney company