Low-Brow Commentary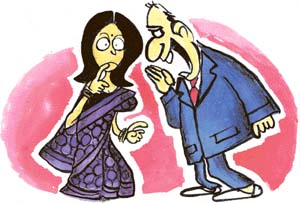 Mickey Kaus, best known for writing the kausfiles blog for slate.com, took the Los Angeles Times
up on their offer
to take their best shot in the new experimental column its running. He offers a unique solution widespread Los Angeles voter apathy. He believes the Los Angeles Times should shed their image as "Southern California's heaviest newspaper" and traffic in gossip.
His argument is circular, but Kaus think it's a virtuous circle. He believes if the Times wrote about sex, crime, bad behavior, and turmoil in high places, it would remind our citizenry the city's leaders are only human. Additionally, he thinks the reason a shockingly high number of Angelenos couldn't pick Hahn out of a line-up or name their county supervisor is because they don't care about politics and are thereby bombarded with information they can't possibly process two or three weeks before an election. The unstated implication of his argument is that if reading about politics was more fun and entertaining, maybe city residents wouldn't mistake Hahn for the worker filling a pothole.
Kaus's biggest concern is about the Times not writing about the Mayor's marital separation? The majority are too apathetic to exercise their civic duties, thereby allowing special interests and civil bureaucrats to reign supreme at City Hall.
Seeing as how the Times has always shied away from trafficking in gossip, I don't think they're going to adopt Kaus's reforms anytime soon.
Fortunately, we here at the Sister City suffer no such pretentions. We are city politics gossip central, and proud of it.