Wendy Greuel Slimes a Good Man: The Nick Patsaouras Story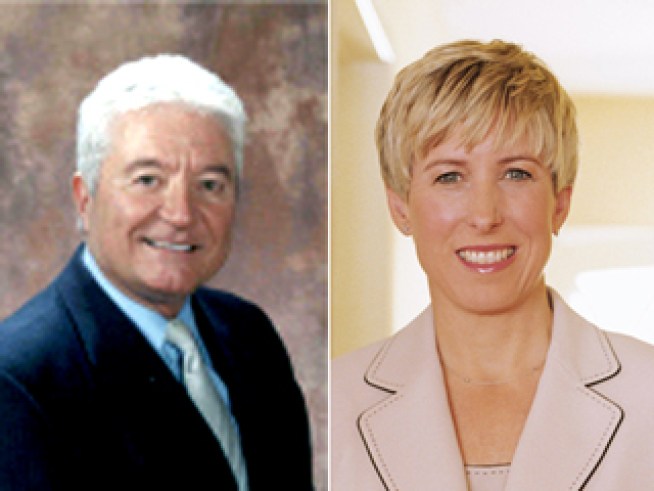 Pre-Mayoral Makeover Wendy
and Nick, the man she slimed
When we think about the character of a person we might want to elect to office, we think about what they may have said about others.
Wendy Greuel's record of sliming other candidates is well known. During the Mayoral primary campaign, she threw all kinds of charges against her opponents, many of them personal. We all remember the attack on Jan Perry from the Greuel campaign on the personal bankruptcy Perry faced following the dissolution of her marriage. When presented the opportunity to apologize for her remarks, Greuel was recalcitrant and said "That's politics."
Go back to another campaign and you'll see more of the same. In her foray into running for City Controller, Greuel was faced up against businessman and philanthropist, Nick Patsaouras. Patsaouras, who immigrated from Greece as a young man over 40 years ago, is a real American success story. The kind you usually see trotted out at Republican and Democratic conventions. Nick got an American education, worked hard, became an engineer and built a very successful business. Because Nick was grateful for the opportunity his adopted country offered, he became a community activist, working with Mayors Tom Bradley and Richard Riordan on building the City's transit system, among other issues. Nick's contribution to the MTA was such that the transportation center at LA Union Station was named after him. His wife Sylvia is also a very distinguished community leader.
None of that mattered to Wendy, who in her quest for power, is known by City Hall mavens to "do or say anything" to get ahead. Let us take you back now to 2009, when the delightful pixie who has supposedly done so much for Sunland-Tujunga, NoHo, Studio City, Valley Village et al, at the last minute, made horrific charges against a good man:
From Mayor Sam's Sister City, March, 1, 2009
City Controller Candidate Wendy Greuel is airing the ad below where she alleges that opponent Nick Patsaouras, as chairman of a local bank, ran the bank into the ground.
However, the Sister City has located documents that show that Marathon National Bank, of which Patsaouras was Chairman of the Board, was acquired by First Community Bancorp in a 2002 merger. Additionally, records show that
Marathon, in quarterly reports filed just before the merger, had significant earnings growth
, hardly the picture of an institution in trouble.
Patsaouras has issued a challenge to Greuel
- prove the bank failed and he'll drop out of the race. However if she can not dispute Patsaouras' claim that the bank failed Patsaouras is calling on Greuel to withdraw.
We don't expect to Greuel to drop out even if she was wrong about Patsaouras' bank; its politics as usual in LA.
Labels: 2009 General Election, nick patsaouras, wendy greuel