Not a good week for Democratic sex-scandals.
Congressman Anthony Weiner (D-New York) is accused of
sending a photo of his namesake to a co-ed on Twitter.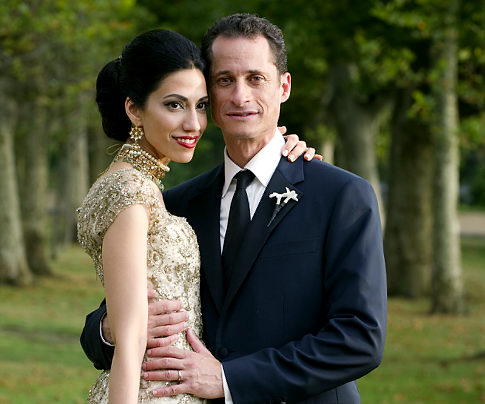 In Love?
Interestingly, Weiner is married to
Huma Abedin
, longtime
rumored "mistress"
of Hillary Clinton.
President Bill Clinton officiated at the wedding last year.
Some say the marriage was "arranged" to keep heat off the Clinton-Abedin alleged relationship
Former Democratic golden boy,
John Edwards, is indicted
in a baby momma scandal, hush money paid might have been from campaign contributors, prosecutors say.
Edwards' defense attorney, tasked with keeping the former Senator and running mate to Democratic Presidential nominee John Kerry out of jail,
Greg Craig
, was also defended President Clinton during his impeachment trial. Craig later served as a lawyer to President Obama, but later resigned.
While all this was happening, President Obama - not currently in a sex scandal - got
some bad news on the unemployment front.
Poor guy.
Labels: anthony weiner, greg craig, hillary clinton, huma abedin, John Edwards, president bill clinton, President Obama