Saturday HotSheet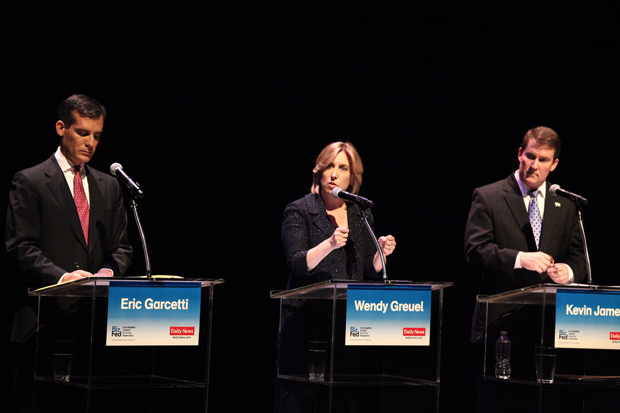 Who will he pick?
Courting of the losers by the winners in Tuesday's Mayoral race is already underway.
The LA Times reports that both Wendy Greuel and Eric Garcetti are seeking the endorsement of former opponent, Kevin James
, who came in third place. James has not yet stated if he will endorse and if so, who he leans towards. It's highly unlikely, given his criticism of Wendy Greuel's lack of independence from special interests he could support the Controller yet as well James was highly suspect of Garcetti's leadership as City Council President during the years Los Angeles slipped into steep decline. James met with Greuel on Friday and will meet with Garcetti over the weekend. Perhaps he will announce his decision as well as comment on speculation
he may seek the GOP nomination for Governor in 2014
, when he
guest hosts on KRLA AM 870's "The Morning Answer" on Monday morning
.
A severe tuberculosis strain has broken out amongst the homeless population of LA's Skid Row and officials are scrambling to address it.
Writing at CityWatch, author/blogger Joseph Mailander
notes that "Over five of every six cases since 2007 have occurred among those homeless in Skid Row, for whom we have failed to provide housing, despite two decades of affordable housing programs and recent costly developments that are purported to house the greatest at risk." Mailander squarely lays the blame at LA's "Homeless-Industrial Complex" where a web of politically connected non-profit organizations, elected officials and Chamber of Commerce types spend millions in taxpayer dollars that do little to address getting any significant number of the homeless in homes. He observes that while "CEOs" of homeless service organizations get salaries often north of well paid Los Angeles City Council members, and apartment like housing units are developed at costs equivalent to the average single family home, existing stock and facilities which could house more individuals at a lower price point sit fallow. Mailander posits the City's policy of "containment" led to the TB outbreak, as opposed to spreading the homeless out in existing section 8 housing in a "regional approach" that doesn't require massive spending on homeless specific facilities. Blogger and homeless activist, Don Garza, told us he agrees with a regional approach stating "the homeless are in tears and those who have seen the horrors of the containment policy first hand living in the supportive housing in skid row" are hoping to see elected officials take a different approach.
Abraham Lincoln's troops won the battle at Gettysburg 150 years ago, which began to turn things around in the Civil War and likely saved the Union, but
Los Angeles Pierce College President Kathleen Burke-Kelly is having none of it
. Burke has cancelled the annual Heritage Days event on the West Valley campus. The event featured highly detailed Civil War re-enactments where children and others can first hand get an idea of what the battle was like and even ask questions of re-enactors who answer in the frame of the period. Yet, despite that Gettysburg Sesquicentennial observations are going on all around the country - and interest in Abraham Lincoln and the Civil War period is at an all time high with several popular movies, books and TV shows out on the subject - Burke-Kelley gave into naddering NIMBY naybobs in the Woodland Hills neighborhood who did not like "the noise." These are the same type of folks who got the Fourth of July Fireworks show cancelled at LA Valley College. Watch out, they may be coming to YOUR neighborhood
And finally when you consider the results of our Mayoral and other elections on Tuesday, one often wonders "who are these people?" who vote. We think late night talk show host Jimmy Kimmel has found them! Watch below!
Labels: civil war, don garza, eric garcetti, homeless, jimmy kimmel, joseph mailander, kevin james, nimby, pierce college, stupid voters, wendy greuel