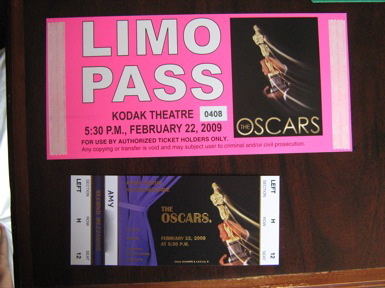 The examination of Ticketgate continues.
The LA Times asks even if there is some civic significance to the Mayor and LuParker sitting courtside at Staples isn't there some conflict of interest when those who give the Mayor tickets have business before the City?
Not just major venue operators such as Staples Center operators AEG or the owner of the Dodgers Frank McCourt but even the folks behind the Oscars who are interested in the outcome of some City parking facility contracts. In contrast to the Mayor, Councilman Bill Rosendahl pays his own way to any events he attends just to be sure to avoid the appearance of impropriety. Too bad the Mayor didn't get that memo.
We noted last week that Councilman Tom LaBonge is behind an effort to take money from Neighborhood Councils to pay for junket bus trips Councilmembers give out.
Now joining the effort is one of the usual suspects, Richard Alarcon
.
You would think they would have learned by now.
The City Council voted Tuesday to instruct it's lawyers to draft a ballot measure to place a parcel tax on property purportedly to provide funding for libraries
. While most of the debate centered around placing the measure on this November's ballot, which would cost the City $4 million in special election fees or on the City's March ballot which would be free, at least Dennis Zine was the voice of reason, voting no and making the "don't ya think" argument that this is no time to raise taxes.
South Bay Congresswoman Jane Harman likes to paint herself as the most "Republican" of Democratic elected officials. But the Washington Post notes that she may be one of the most corrupt of Members of Congress as
she has vast financial holdings in companies and industries she is charged with regulating
. Can you say conflict of interest?
Mulholland Terrace makes a good point. While veteran, controversial campaign consultant John Shallman says he is suing Councilmember Bernard Parks for unpaid bills from his last campaign,
the lawsuit may shed sunshine on how Shallman operates
. Oops.
Labels: dennis zine, Jane harman, john shallman, library tax, mayor antonio villaraigosa, mulholland terrace, neighborhood councils, Richard Alarcon, ticketgate, tom labonge