Comprehensive Water Reform in California?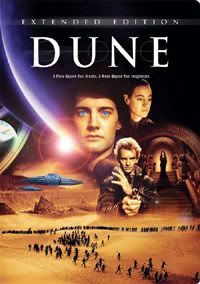 I have always loved Dune and the strong ecological themes embedded throughout the science fiction series. We are not as bad off as Arrakis in our semi arid Los Angeles region but touring the Bay Area Delta last April opened my eyes to the need for comprehensive water reform in the Golden State.

Coro has its Water Conservation Luncheon tomorrow and is attempting to surface some solutions with a number of top water experts and officials. I also put together a special Coro CrossTalk on Water a couple of weeks ago that provided some insights into water politics--perhaps serving to remind all present of that famous phrase from another water-themed movie: "Either you bring the water to L.A. or you bring L.A. to the water."
Last Friday, Mayor Villaraigosa, Governor Schwarzenegger, Speaker Bass and a number of others assembled at the Tujunga well field of the San Fernando Valley aquifer, part of Los Angeles' water supply, to sign two bills of a five piece water accord. The remaining parts of the $11.1 billion bond (which is part of a larger $40 billion financial commitment) was signed this past Monday and will go before voters a year from now. It looks promising but there are critics as well as political observers like Dan Walters of the Sacramento Bee:
Debt service, now nearly 7 percent of the state budget, could hit 10 percent by the middle of the next decade, Lockyer said, calling for a multiyear master plan for financing infrastructure rather than the current election-by-election game. Repaying water bonds will cost as much as $800 million a year.

The second big question: Will voters go along with it? Asking visibly angry voters to authorize more borrowing in this very bleak economy is dicey, especially since there's considerable opposition, including some environmental groups and perhaps public employee unions that see less program money available if more is spent on bond service.
The question remains, however, is what is the cost of doing nothing or to paraphrase our illustrious former Vice President, to continue dithering. Below is footage from the signing here in the 818 as well as a photo slideshow. I guess we will just have to wait and see if Schwarzenegger will truly be California's Paul Muad'Dib of Water.

List of speakers in order of appearance:

Mayor Antonio Villaraigosa; Governor Arnold Schwarzenegger; Assembly Speaker Karen Bass; Assemblymember Kevin De Leon; San Diego Mayor Jerry Sanders; Paul Rodriguez, California Latino Water Coalition; Jeffrey Kightlinger, MWD of Southern California; Gary Toebben, Los Angeles Area Chamber of Commerce; Pankaj Parekh, Los Angelees D.W.P.; and Danny Curtin, Director, California Conference of Carpenters

Video



Rest of the footage: II, III, IV, V

Slideshow



Labels: antonio villaraigosa, arnold schwarzenegger, Karen Bass, kevin de leon, metropolitan water district, water politics